The smart SharePoint questionnaire
I am hoping that this will be the first in a series identifying common problems and offering an open solution to said problems. I expect in this series to offer solution accelerators with pseudo-code, working libraries, partial implementations etc Ok, let's get started.
The common problem:
In concise terms, the recurrent situation is the need to dynamically navigate users through a set of questions then do something based on the answers. This breaks down as:
1. Ask a variable set of questions interweaving rich content to assist in the answering of questions
2. Calculate and record answers.
3. Upon completion, compile results, and take some actions like a workflow or building of a structured document.
Requirements & Constraints:
Must be maintained without developers
Role: User
Questionnaire Subjects
Answer questions in surveys
Some action happens upon completion
Role: Analysts
Define questionnaire
Creates list of questions
Defines questions
Writes question text
Picks question type (yes/no, multiple choice, free text)
answers for multiple choice
Must be built on SharePoint… Cause that's what I wrote it for, though the it's easy enough to switch out the method that loads the model.
Technical Solution:
The technical part of the solution is pretty straight forward; an open JavaScript object named smartQuestionnaire. The high level flow is as follows:

                    Function init(){
 	                    loadQuestions()// intended to be extended
 	                    loadAnswers()// intended to be extend
                        mapAnswersToQuestion()// intended to be extended and is run upon completion loadAnwsers
                        getFirstQuestion()//intended to be extended
                        qControl()//manages flow of questionnaire 
                    } 
                    Function qControl(){// manages flow of questionnaire
                    	getQuestionHTML()//could to be extended, writes HTML content for question
                		myHTMLCtn()// intended to be extended, writes answer collection HTML
                        //attaches click event to move on to text question
                    	pushCalculatedAnswer()//intended to be extended, validated and performs answer calculation
                    	//determines if questionnaire is complete 
                    	addUpAnswer()//Must be extended , does whatever you need it to upon completion 
                    }

                        
                    
Persistence is straight forward too. Everything is maintained in SharePoint lists loosely modeled as follows: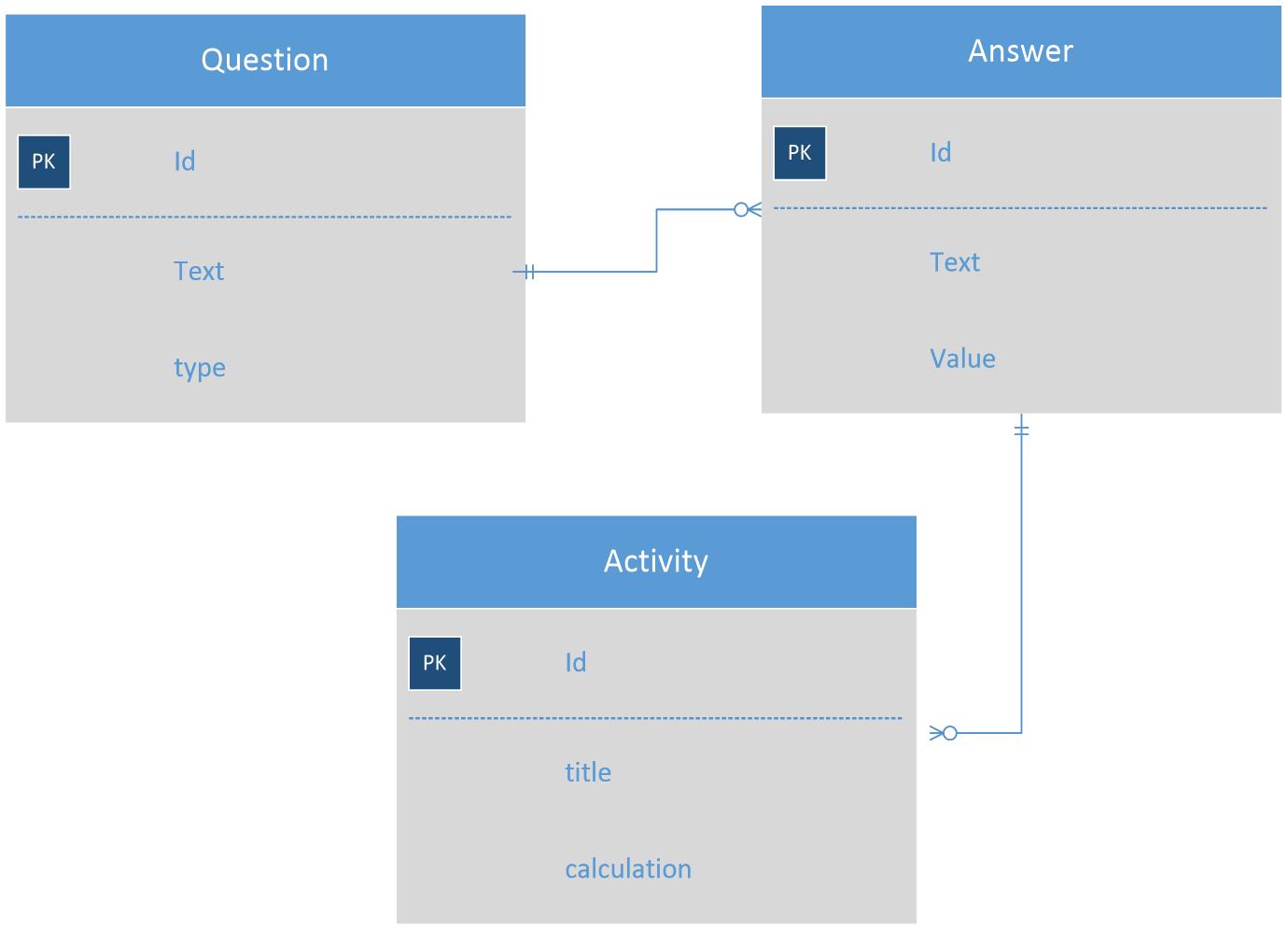 SharePoint is very useful for this common problem especially given the constraint that analysts need to maintain the questions and calculations. To complete the solution, I normally end up making two more artifacts:
1. An administrative page that shows a view of the questions, a connected view of the answers
2. A .txt file that contains a call to my extended version of the smartQuestionaire object so that they can easily add surveys to any page they want